---
"Give Me 45 Minutes, And I'll Give You The Perfect Witness — Guaranteed."
Hi, I'm Zach, and like you I'm a lawyer. I remember it like it was yesterday. My heart sank as soon as I heard him talk…there I was watching my client, who I'd worked with personally for the past three weeks, getting brutalized by the other lawyer during his deposition.
During those three weeks we went over every conceivable document, issue, and question many times. Yes of course I told him not to speculate, of course I told him not to volunteer, of course I told him to limit his answers – I told him all that and more, repeatedly. I did everything humanly possible to get him fully prepared.
Finally, the day of his deposition came. I looked him in the eye and said, "OK, you know what you're going to do when you get into the deposition, right?" He nodded looking at me with these big eyes, completely trusting me, completely believing that I was going to be the person to get him through this high-stress event. But in the face of it, looking at the other side's lawyer he was like a deer caught in the headlights about to get run over by a Hummer.
I sat there in frustration and disbelief watching him totally drop the ball. Continue here >>>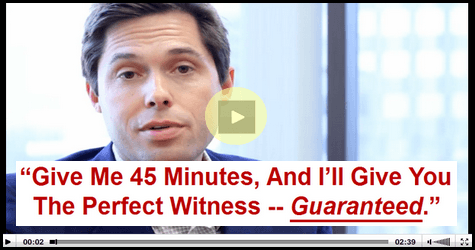 Save