The Less-Than-Lethal Shotgun: A Safer Way To Stop A Threat?
Article from OffTheGridNews.com
Preparing for a home defense situation is basically an act of arming yourself for a dark, nasty and unfortunate hypothetical scenario. Also, the chances of finding yourself in such a scenario increase in certain areas of the country — and thus, the responsibility of acquiring a suitable defensive weapon increases accordingly.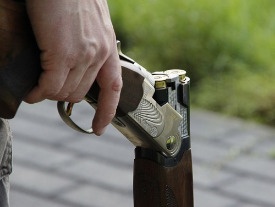 But then, there are variables to consider. In a home with small children, keeping a fully loaded AR-15 or Glock 17 by the bed is not something that every home defender is comfortable with. However, the eerie possibility of that nightmare scenario occurring still isn't going to vanish in the presence of children.
So, what now? Are there alternatives to lethal weaponry, which don't involve a Louisville Slugger or MMA training? Answer: yes. For this particular dilemma, you might consider purchasing a pump-action 12-gauge shotgun, such as a Remington 870 or Mossberg 500, but instead of loading it with 00-buck shot …Continue with article hear…
Secret move to disarm and take down ANY attacker...